we are the best gym in basingstoke and we want to help as many people as possible avoid ever-growing health issues in today's society by living a healthier lifestyle.
Our Gym
Fitness Flex Personal Training and Fatloss Bootcamp is no ordinary bootcamp or gym in Basingstoke. This unique Fitness community is an indoors fitness programme which bases exercises around the functional movements of our bodies (natural ways in which our bodies are designed to move and exercise). Located at Brighton Hill Parade in Basingstoke.
Our training is based on 'HIIT' (High Intensity Interval Training), which is scientifically known to be the best and most effective way to increase your metabolism and send your body into fat burning overdrive.
Our classes at our gym in Basingstoke include Bootcamp where we will use a variety of fitness equipment (including ropes, kettle-bells, medicine balls, TRX, skipping ropes,, sledges, barbells, dumbbells ect), Boxcamp classes which are based on the training concepts boxers typically use to keep fit, which includes boxing movements, typically in a circuit, and other types of workouts and Yoga.
You will flip, pull, push, slam, throw, drag, sprint, swing, hop, skip and jump your way to a new level of fitness!
A new level of FUNctional Fitness.
Why not come and check out the best gym in Basingstoke. 
We promise that you will have never trained in such a new, fun and creative way!
With the expert nutritional advice and education you will receive the best results possible alongside fun and effective exercises!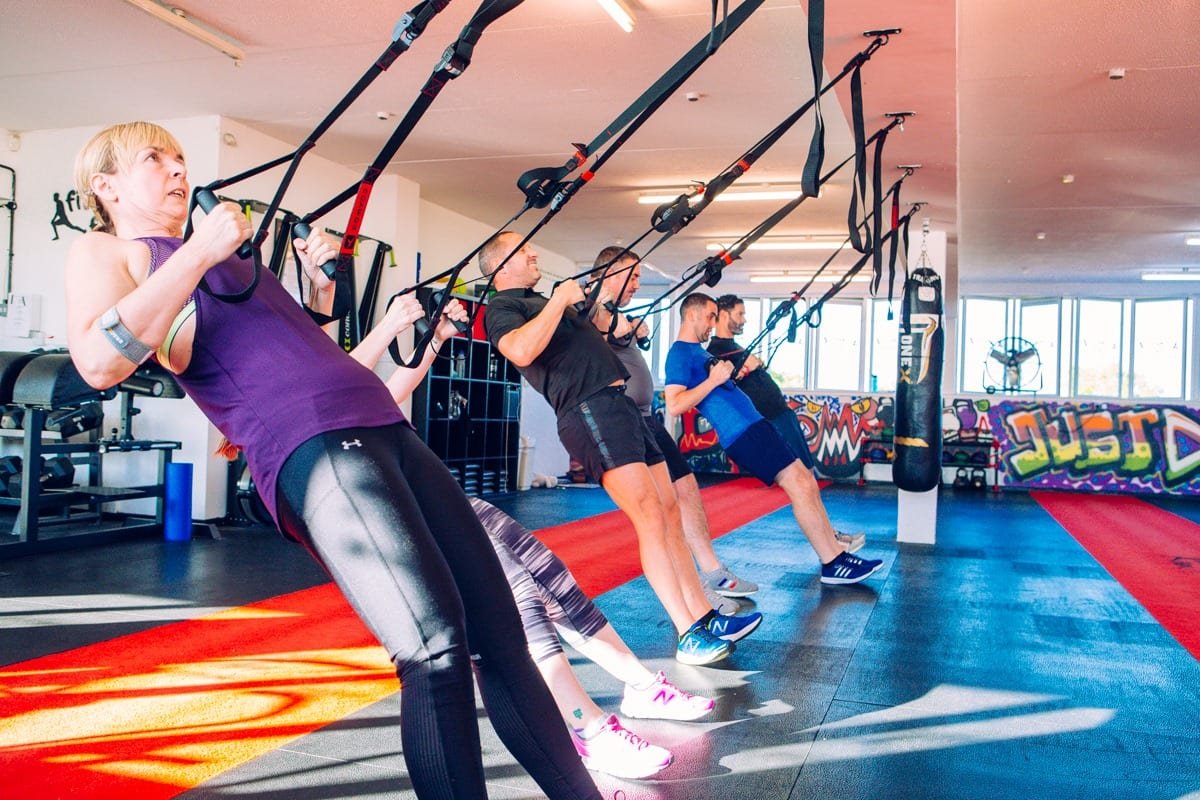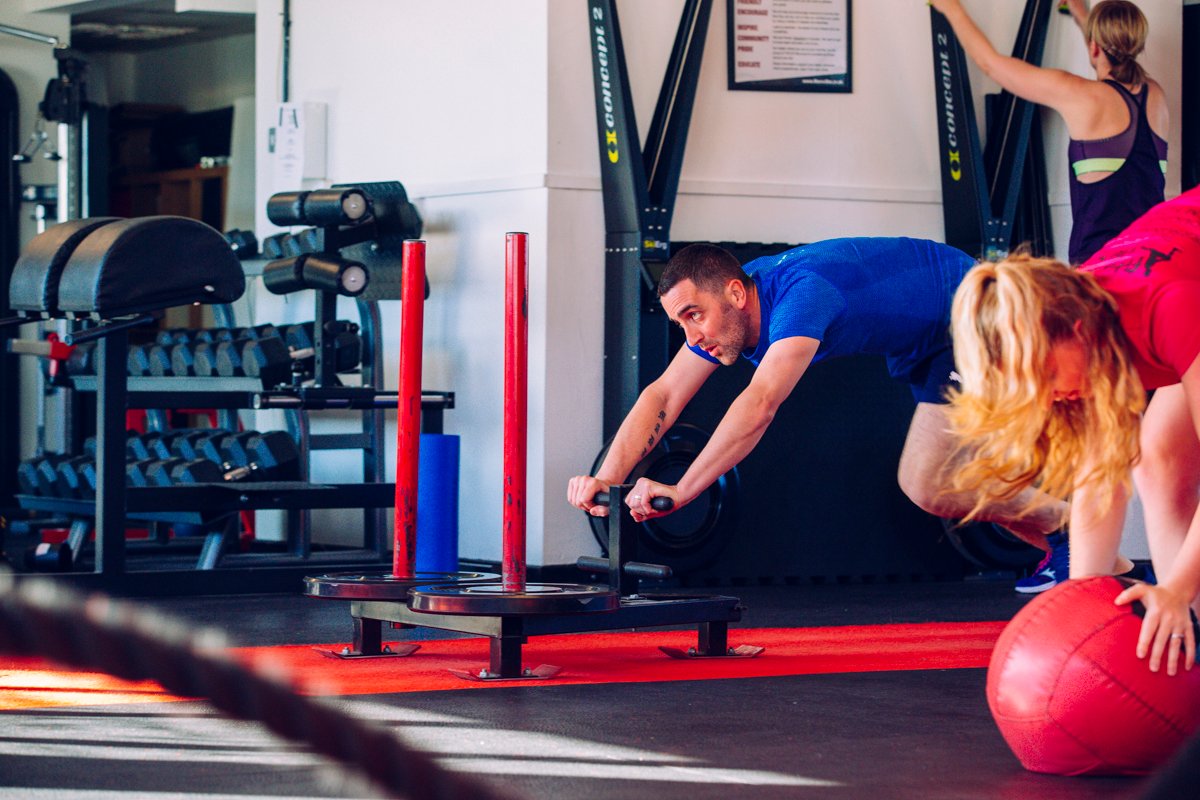 12 Week Body Transformation
8 Week Body Transformation
Our Mission
To have a positive impact on our client's lives by creating a memorable fitness experience.
We will deliver the best possible fitness and nutrition solutions to our customers through fun, challenging, appropriate and effective programs. Thereby, we will be recognised as a unique and respected fitness resource for our community in Basingstoke.
Our values
Empowerment – We are committed to empowering others health through fitness, nutrition and lifestyle choice. Empowering is more than helping someone. It is giving them the power and confidence to make healthier choices on their own. 

Respect – Customer and Team Members are treated with respect at all times

Teamwork – Do whatever it takes to work as a team and achieve team goals. Flexible in our work. Understanding that we may have to sacrifice individual benefits for the good of the team at times. 

Communication – Committed to giving clear communication to both clients and team members. Truthful communication will create solid, encouraging relationships. 

Accountability – We are accountable for our actions & take responsibility for outcomes
Our promise
Respect  –

Everyone

is treated with respect. Everyone is equal

Fun & Friendly  – We will provide a fun and friendly environment in which you can work to achieve your goals.

Encourage – We will help and encourage everyone to be the best that they can be.

Inspire – Lead by example – be aware of your impact and use it positively

Community – We are Family.

Everyone

is included.

Pride – No matter where you are on your journey, we are proud of YOU!!!!! Be proud of yourself and those around you too.

Educate – Share information, support your peers, embrace other's experiences. Learn from each other.
"It was an absolute boss move choosing Fitness Flex as our training base back in 2018. The vibe is great and the trainers are incredibly knowledgeable, upbeat and supportive; nothing is too much trouble.
Week in week out they all continue to produce a variety of fresh and imaginative bootcamp classes that challenge virtually every muscle in the body. Fitness Flex is suitable for everyone regardless of where you are on your fitness journey. Highly recommend.
"
"Before Fitness Flex, I did no exercise and had no idea what was good for me. Now, I enjoy exercise?! It doesn't feel like a chore, FF makes it fun! No class is the same. All members are like family. The instructors are so supportive it's unreal! A wonderful community for health and well-being."
I've not exercised for years - is it for me?
YES.... We cater for all Fitness Levels, so don't worry if you're getting back into exercise we will be there to support you every step of the way.
I've been to bootcamps before and the instructors just shouted and yelled. Is that what you guys do?
NO... We are not a Military style Bootcamp. All our instructors are qualified Personal Trainers. We focus on Body Transformation and supporting our members to reach their goals in a relaxed and enjoyable environment.
How many times do I have to come? Is it every day for 7 days?
You can choose from either 3 or unlimited sessions in a 1 week period, whatever you think you are ready for.
I've got an injury - will I still be able to train?
Of course, before your FREE trial you will be asked to fill out a short Fitness Questionnaire. If you have specific injuries then the trainer will provide you with alternate exercises to ensure you still get a good workout without causing any additional pain or damage to your injury.
What happens if I miss a day or two?
Having a day's rest between sessions is recommended, you have the opportunity to attend up to 5 sessions over a week so you have a variety of days and times to choose from.
What kind of training is it?
Bootcamp Sessions are 45 minutes long and can consist of circuits, body weight exercises, cardio, strength and conditioning... plus much more. Sessions are varied so you will never have the same workout in the same week.
Is this just designed as a way to get paying members?
YES, it is designed to get people involved, but reiterate that there's no pressure to join. Our value at Fitness Flex is to support our members to achieve 'The body of their life, having the time of their life!'
What kind of results can I expect in 7 days?
If you stick to the nutritional advice & attend the free trial then you can expect to lose several lbs in just a 1 week period.
I'm nervous I'll fall behind. Do you promise that it's suitable for all levels?
100% it is not a competitive Bootcamp. Our trainer and members have created a supportive environment so you only work as hard as you can.
You mentioned you have different expert trainers. How does that work?
We like to ensure that our members get a variety of different workouts. We have trainers scheduled to take different sessions throughout the week, to mix it up.
What is the difference between your 12 Week Body Transformation programme and Bootcamp?
Our 12 week body transformation programme is semi-private personal training. You will join a group of 6 people and train 2-3 times a week weight training. Along with your weight training sessions you will also receive nutritional support with daily tracking and accountability, weekly weigh in and tracking and unlimited access to Bootcamp sessions.
With our Bootcamp sessions you can attend different sessions/times every week. You will receive as part of your membership nutritional support and advice.